COME JOIN US FOR THE BUCCI BASH!
LAINIE'S BIRTHDAY CELEBRATION
WITH
INTERNATIONAL SUPER DJ / PRODUCERS
SAEED & PALASH
These phenomenal DJ Duo were nominated for Best Breakthrough DJs of 2003 by Dancestar USA. S&P are making a special pit stop on there 'Addictive Beats' CD Release Tour to rock Centro Fly all over again for Miss L's Birthday Bash. Prepare to be sexed up by their funky house & tribal sounds.
and
LOUIS OSBOURNE
Being the son of renowned Rock Star Ozzy Osbourne it was inevitable that he was to be an entertainer of some description. Louis is fresh from his Strongbows residency in the UK and ready to work his funky house skills!
It has finally happened. Centro-Fly, the city's coolest club, has been re-designed and reinvented - and is now being re-opened.
When you walk back in, you won't be able to recognize the club, with three new rooms that have been created within the main room.
Next to the beautiful new bar area, you'll see the fabulous indoor garden which has been carpeted floor to ceiling with grass. Diagonally opposite, in the raised alcove area, there is a sumptuous lounge area with a sunken 'conversation pit'. And behind the new DJ booth (which is now on the dancefloor) there is 'bleacher style' seating area divided into separate, private areas for lounging, chatting and kanoodling etc.
Drinks are reasonably priced too (beers are $4, cocktails less expensive than before) and the sound system has been beefed up to fill the room with music of unprecedented clarity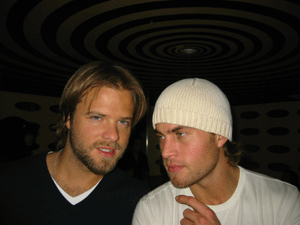 Industry Guests please email birthday@aureliaentertainment.com
for comps and table reservations.
For Reduced guestlist $10 up to midnight / $15 up to 1am
call 212-539-3916 or email centro-fly@gbh.tv with your name and the number of guests you are bringing. When you arrive, tell the doorman you are on the GBH guest list.

General Admission $20
Centro-Fly: 45 W21 St. just off 6th Ave.

Door by Ofrit
Doors open 10pm